Young families want to live in Southeast Baltimore and send their children to neighborhood schools. But our elementary and middle schools are overcrowded.
To examine ways to address the problem, the Southeast Community Development Corporation (SECDC) obtained funding last spring to hire an education and strategy consultant and assemble a community advisory committee, or task force.
The group was charged with drafting a series of community-based recommendations that would not only reduce future school overcrowding, but also support immigrant students and promote socioeconomically diverse schools, and then share these recommendations with the Baltimore City School Board.
Below is a series of questions and answers about the task force's make-up, goals, analysis, and recommendations.
At the end of this Q&A is a brief survey asking for your feedback about the task force's findings. Please take a moment to complete the survey.
What is the Southeast CDC?
The SECDC is one of Baltimore's oldest community development corporations. Founded in 1975 as Southeast Development, Inc. (SDI), it was the development arm of the Southeast Community Organization (SECO), an umbrella organization founded by community activists that included Barbara Mikulski.
During its history, SDI produced hundreds of units of affordable housing and a number of commercial projects. In 2000, SDI separated from SECO and became the Southeast Community Development Corporation. For the last 15 years, it has focused primarily on the revitalization of communities east and north of Patterson Park.
Why does a community development corporation have an education agenda?
The SECDC believes that walk-to community schools stabilize neighborhoods, that K-8 schools offer more stability to families than K-5 schools, and that socioeconomically diverse schools lead to better outcomes for all students and their neighborhoods.
We are a participant in the Baltimore City Community Schools initiative, which partners schools with community-based nonprofits to provide family support that helps children succeed in school. Through a network of resources provided by the nonprofit partner, these community schools support student achievement and family well-being.
Specifically, the SECDC is a community school partner for Highlandtown Elementary/Middle School #237 and John Ruhrah Elementary/Middle School. Both schools, like most elementary/middle schools in the Southeast, are walk-to schools, meaning that students and their families walk to school from home.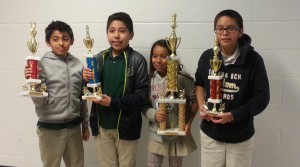 The SECDC also has a record of educational advocacy. Most recently, we advocated for amendments to Baltimore's 21st Century School Buildings Plan to address the overcrowding in Southeast schools.
City Schools responded to our recommendations with an amendment that proposed additions to Commodore John Rogers Elementary/Middle and Highlandtown Elementary/Middle #237.  Today, both Commodore John Rodgers and Highlandtown Elementary/Middle are scheduled for expansion along with John Ruhrah Elementary/Middle School, which was already in the plan.
Why does the SECDC have an education task force now?
We have a task force because we believe City Schools' plan for Southeast schools does not address future overcrowding, provide enough support for immigrant students, or specifically promote socioeconomically diverse schools.
The 10 schools that surround Patterson Park are among the most overcrowded in the city, with an average building utilization rate of 154%. The 21st Century School Buildings Plan was created to consolidate under-enrolled schools and modernize school facilities. It was never intended to address future school overcrowding.
When City Schools initially released the buildings plan, the SECDC advocated to amend the plan to address overcrowding in our area. At the time, City Schools responded with a recommendation to turn the former Canton Middle School into a new K-8 with a "superzone" that would include the overcrowded neighborhoods.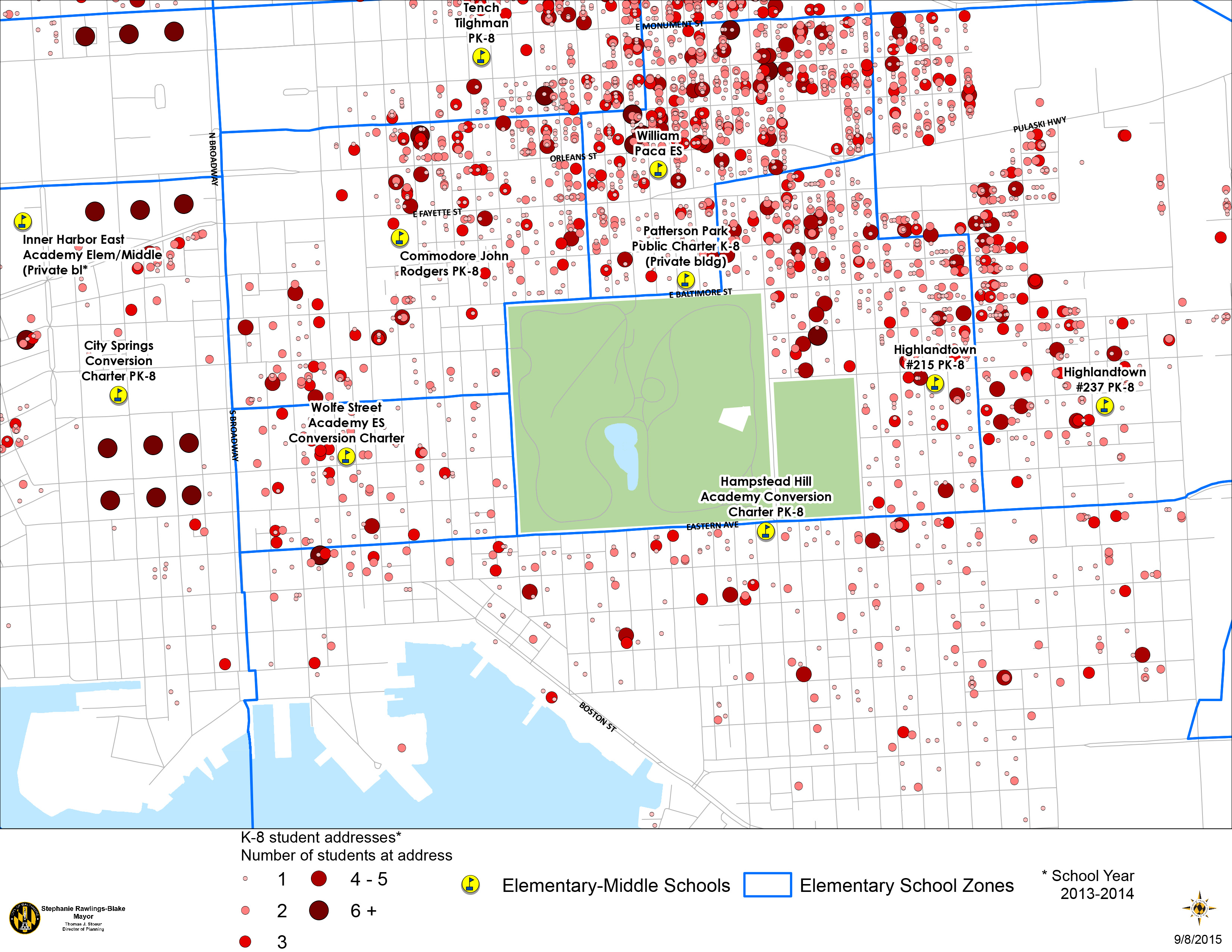 That recommendation caused additional concern; according to location mapping provided by City Schools and the city planning department, most of the overcrowding came from families in Ellwood Park (see map above; click image to view larger). Building a new school at the Canton Middle building would mean a mile-long walk to school for those children.
Instead of renovating Canton Middle, City Schools decided to construct additions to Commodore John Rodgers Elementary/Middle and Highlandtown Elementary/Middle #237.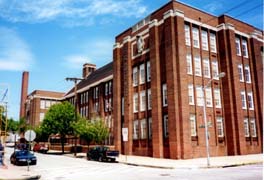 Nevertheless, the SECDC remains concerned that the additions will only address existing K-8 overcrowding at those schools—not future over-crowding in the Southeast community.
What's more, while the highest concentration of the Southeast's elementary and middle school-aged students live in or near Ellwood Park, William Paca Elementary, Ellwood Park's neighborhood school, is over capacity and not slated for replacement until year 8 (2026) of the 21st Century Schools Buildings Plan.
At the same time, elementary/middle schools in Southeast are also experiencing a major influx of immigrant students, primarily from Central and South America and Mexico. These students arrive throughout the year.
Of the district's immigrant population, 60% attend schools in Southeast Baltimore.
It was in response to these multiple concerns, that the SECDC, with the assistance of the Enterprise Community Partners, sought resources to hire an educational consultant to convene a community task force.
The SECDC sees the current conditions as an opportunity for City Schools to take a holistic approach to addressing the unique needs of the Southeast community–an approach that recognizes that the challenge is multi-faceted and not just about facilities, but about neighborhoods, opportunity, and equity.
With Southeast Baltimore's diversity and growing population, we think now is a good time to create socioeconomically diverse, intercultural schools where our children live.
It is our experience that many southeast Baltimore residents moved to the area because of its socioeconomic diversity, and we think they want socioeconomically diverse schools as well.
Who sits on the SECDC education task force?
The task force includes 15 parents and community leaders from the schools and communities surrounding Patterson Park.
The SECDC engaged them based on their interest and strong knowledge of Southeast schools and community issues.
Nakeia Drummond, an education and strategy consultant and former City Schools administrator, and Chris Ryer, director of the SECDC, co-facilitated the task force.
How often did the education task force meet, and where were its meetings held?
The task force met twice a month from April through August of 2016 at the SECDC offices in Highlandtown and will reconvene one last time in October.
Aside from the task force members, who else was involved in shaping the task force's recommendations?
Prior to the task force's launch, the SECDC contacted principals of the 10 schools in the Southeast that surround Patterson Park. Those 10 schools are City Springs Elementary/Middle, Commodore John Rodgers Elementary/Middle, Hampstead Hill Academy, Highlandtown (#215) El-ementary/Middle, Highlandtown (#237) Elementary/Middle, John Ruhrah Elementary/Middle, Patterson Park Public Charter, Tench Tilghman Ele-mentary/Middle, William Paca Elementary, and Wolfe Street Academy.
Eight of the ten principals met with the SECDC to answer questions about overcrowding, rezoning, and the area's academic programming needs. The principals also had the opportunity to recommend parents and community members to sit on the task force.
What did the principals say?
Principals voiced a variety of concerns about overcrowding, including the impacts of possible citywide rezoning on economic and racial segregation.
Many also expressed the need for programming related to the arts and advanced academics and the Ingenuity Project in Southeast schools. Many said that the district will need a model and resources to support the increase of immigrant families and students.
How did the task force come up with its recommendations?
The task force met during the Spring and Summer and, using a collaborative process, discussed a broad variety of options.
After evaluating each option based on its respective opportunities and limitations–and adding additional potential recommendations to the conversation–the task force voted in August on three options it thought were most important and impactful for the Southeast community.
What are the task force's recommendations?
The task force developed a set of recommendations that if implemented will alleviate the area's overcrowding, put systemic supports in place for newcomers and the schools that serve them, and intentionally promote socioeconomic integration.
The task force recommends that a new K-8 school be constructed in the Ellwood Park community, where, according to City Schools data (2013-14), the Southeast's highest concentration of elementary and middle school-aged students reside.
To guarantee that the school's enrollment policies ensure access to students living in Ellwood Park, the task force believes the school should be a zoned community school and not a charter school. It recommends that the district recruit a school leader who has a track record of academic success and building schools with cultural and socioeconomic diversity, specifically through academic programming (i.e., Ingenuity, language immersion, greening, or advanced academics).
Additionally, the task force recommends that William Paca Elementary, a K-5 located in McElderry Park, be rebuilt and reconfigured into a K-8 school. In addition to the poor condition of its building, William Paca is also overcrowded, as it has recently received immigrant students.
What's more, William Paca is one of only two K-5 schools in the area and the only school that does not have a middle school that automatically receives its outgoing fifth-graders. As a result, William Paca students must transfer to other schools to complete grades 6-8. (About 50% of students in the William Paca zone leave the Southeast for middle school compared to 20% of students in other Southeast schools.) This creates an academic disruption for the students and inconvenience for their families.
The task force's third recommendation is that City Schools develop a districtwide model to support its large newcomer community; that it fund newcomer programming at every school with an English Language Learner population; and that it provide out-of-school-time supports to newcomer students and their families.
Task force members agreed that newcomer supports should be designed to achieve the following goals:
provide systemic support for (Limited English Proficiency) LEP assessment and placement of students
assure that students acquire and develop English listening, speaking, reading, and writing skills;
seamlessly mainstream immigrant students into regular programs utilizing coordination of services;
create a supportive environment for students, families, and service providers.
The Southeast's diversity make it an ideal incubator for newcomer support from which City Schools could create its model.
What are the task force's next steps?
The task force now seeks comments on its recommendations via a community survey (click here to take the survey).
Representatives from the task force will meet again with principals and district staff later this fall to gather additional perspective on the recommendations.
When will the task force present its recommendations to the School Board?
The task force will present its recommendations to the School Board in November.
Please follow and like us: